Jamie's Dream Team is holding the first Annual Disney Extravaganza.   This trip is for ten families that cannot fly commercial airlines, so we need help to fly them on a private charter.
Plane- $32,000
Lodging at Disney World & the children who qualify for Give Kids the World- $10,000
Park Tickets- $5,000
Food- $2,000
Spending Money & Other Expenses- $3,000
Total: $52,000
Kids Bios
Josh Stanek
Josh was born four months premature and only weighed 2 pounds at birth.  Due to his prematurity, Josh is medically fragile.  He has severe cerebral palsy and chronic lung disease which causes him to have to breathe through a tracheostomy.  Josh faces may life challenges as he is unable to walk, talk, eat, or dress himself.  He cannot sit without support and has difficulty controlling his muscle movements. Josh has had two brain surgeries in the past 4 months and is currently scheduled for hip correction surgery in the next month.  Despite all these challenges, Josh is in many ways like other 12 year olds.  Josh has watched many of his friends and their families go on Disney Vacations.  His friends have had the opportunity to see Disney characters in real life, while Josh had only been able to watch them on TV.  Unfortunately Josh has been far too medically fragile and required too much special equipment to travel that far, despite his continued wish to see some of his favorite characters and to ride amusement park rides.  Giving Josh the opportunity to ride in an airplane and visit the Disney Parks will be a dream come true for him and a once in lifetime chance for him to experience the magic that only Disney can.
Shane Kunkle
Kristina Kezmarsky and her 10 year old son Shane live in Pittsburgh.  At birth, Shane was diagnosed with mitral valve stenosis, left ventricular hypertrophy, aortic insufficiency, upper and lower G.I. complications, cognitive delays and is also deaf, blind and nonverbal.  By allowing Shane to go to Disney World, Kristina and Shane can just relax and enjoy all the pure joy the park has to offer without having to worry about doctor appointments and future surgeries.  A trip to Disney World would allow Shane to experience everything life has to offer.
Jaxon    
Jaxson is a 4 year old amazing little boy. At 9 months old he was diagnosed with pachygyria. This means that during development, the brain did not grow properly. This prevents the correct brain signals getting to the muscles and nerves of the body. Everyday activities such as eating, drinking, walking, even just holding an object, have been a struggle for him.  Through several years of physical, speech, and occupational therapies, he has been able to learn to walk, eat certain foods and begin to hold objects so he can play. He will need all of these therapies for most of his life. Despite it all, Jaxson is the most loving, happiest of little boys. His smile is enchanting and his greatest love is Mickey Mouse and dogs.  His determination is unstoppable, even through surgery for a feeding tube, and not being able to speak. His babbles and cooing sounds keep him verbal but his ability to form words is still in the works. But by learning to use certain signs and gestures, he can make his needs known. But the best thing about our Jaxson is his love. He loves everyone and his love is contagious
Gabriella
Gaby is a sweet, chrasmatic, kind, caring, and very funny little girl. She was born with Spina Bifida and it has caused so many obstacles for her throughout her 5 years but she is positive and strong and makes the best of every situation. We can't go anywhere in tbe community without Gaby making a friend and a lasting impression on everyone she meets. She has had more than five surgeries and no doubt will face more in her future. Each day is a visit to a doctor or therapist. She struggles with separation anxiety and developmental delays. Getting around can often be a challenge because she has to use crutches and braces to maneuver and often tires quickly. But even faced with all of these daily difficulties her personality shines through and she perseveres touching the hearts of everyone she meets.
Ryan
Ryan Wagner, a 13 year old boy with sever autism is awaiting his dream of meeting Mickey Mouse and finally kissing him on the head, instead of just the TV.  Although he is not able to speak many words, he was once able to spell out Mickey's name and even spontaneously shouted "Hot Dog!"  Commercial flights and long drives are too stressful for Ryan, so this trip would mean the world to him and his family so he can finally meet his best friend, Mickey Mouse.
Chase
Chase is a 14 year old from McCandless.  When Chase isn't busy being an eighth grader, he likes to play with his dog Sadie, to ride horses and to play baseball with the Miracle League.  Chase enjoys the National Aviary, PNC Park, and the zoo.  He likes playing games on his tablet and running after his little brother, Logan.  Chase also has Autism, Global Developmental Delay and Intellectual Disability.  It is difficult for Chase to experience life like his peers since he needs assistance in every aspect of daily living.  Chase likes making friends, but it is not easy for him because crowds, waiting, and change greatly affect him; he gets sensory overload and needs a lot of help to deal with the resulting anxiety.  Chase has always been a fan of everything Disney.  He has been watching Disney movies and Mickey Mouse since he was a toddler and now watches YouTube videos of all the rides and attractions.  Being able to actually go to Disney World would be a dream come true for Chase. The next time he asks to go meet Mickey and he hears "yes??? instead of the usual "no???, he will be absolutely thrilled. There is nothing better than seeing him smile and we all could use a little more light in the room.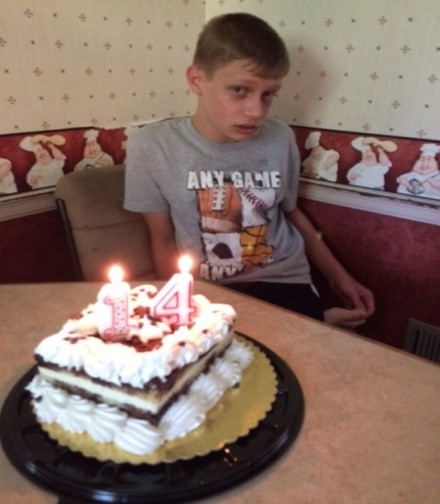 Nathan
Nathan Green, a 14 year old boy from Pittsburgh, PA was sadly diagnosed with autism at just four years old.  Nathan has never had the experience of Florida, Disney World, or even an airplane.  This "king of the coasters!" is hopeful to share this wonderful trip with his parents and his brother Tyler, who suffers from Asperger's.
Abby
Abby Conn is a 5 year old little girl from Pittsburgh, PA. Several months into Ophthalmology we received a diagnosis of Ocular Albinism and Autism. Abby could not see fully but there was some sight. That if we worked with contrasting colors with many hours and dedication we could build her sight. So we began with Black objects in front of white backdrops. Color contrasts and this amazing bright show called "Mickeys Clubhouse" and after a few months we had our first eye contact. Abby could see our faces. By the end of her first year of life she was capable of seeing just about everything except she had, and still has, no peripheral vision and lack to understand depth but Abby is autismazing.